Have you founded a startup that has been growing modestly for an extended period?
Do you know how fast your business is growing?
In a post about startups, Paul Graham defines this type of business as "a company designed to grow fast." He encouraged founders to measure their growth rates continually. He noted that a good rate is 5 to 7 percent per week, while an exceptional growth rate is 10 percent. However, experts note that 10 percent growth can't last forever.
"A company making $100 each week growing 10 percent weekly would generate $15 billion in annual revenue after just three years. Even Google and Facebook didn't do that. The law of large numbers catches up to everyone," wrote Jules Maltz and Parsa Saijoughian of Institutional Venture Partners (IVF) in TechCrunch.
IVF created a graph to help startups figure out if they were growing fast enough. For the chart below, they pulled data since 2010 and tracked the historical growth rates for each startup before they went public and the year of the IPO.
"As the chart above shows," the authors wrote in TechCrunch, " if you're hoping to be a public company, you should be growing significantly faster (by percentage) the smaller you are. The median company with revenues between $0 and $25 million grew at a whopping 133 percent. As these companies scaled to the $150 million to $500 million revenue range, they grew at a more modest rate of 38 percent per year.
Additionally, they noted, "the companies with the most successful IPOs (Tableau, Workday, Splunk, ServiceNow, Marketo*, LinkedIn, etc.) achieved growth rates at or above the median benchmarks in each of the years we examined before the IPO. As expected, the median revenue multiple at IPO for these companies was significantly higher at 7.3x. Conversely, the median revenue multiple for companies with growth rates below the median benchmarks in each of the years was only 3.8x."
What if You Aren't Growing at 20% Per Year?
If you aren't expanding this fast, don't feel alone.
Experts have studied growth rates and found that with a wide variety of SaaS companies, both private and public, the growth rate of any given year is highly predictive of that in the next.
"In recurring-revenue companies, next year's growth rate is likely to be 85% of this year's growth rate," stated Andy Vitus in Scale VP. Vitus created a scatter plot which demonstrated three points:
The persistence in growth rates holds across companies of varying size.
The persistence in growth rates holds for both fast-and slow-growing companies.

In a recurring-revenue business model, increasing the growth rate is increasingly difficult, and even maintaining the current level of revenue growth requires careful planning and great execution.
Vitus stated, "The solid line on the chart represents the best fit to our data set. The slope of the best-fit line relates to current year's growth rate to next year's likely growth. As a rule of thumb," he noted, "next year's growth rate is likely to be 85% of what this year was."
Growth rates decay within a fairly predictable range as companies mature.
Vitus also pointed out that "low growth rates are frequently systemic to markets and are more suggestive of a constrained market size (or some other unfavorable dynamic) than a dysfunctional sales organization. In these cases, capital efficient growth is crucial to a good outcome."
Variation Common in Early Days
When a company is in its early days, experts state that the variation across the numerous definitions of growth rate is most extreme. Jeremy Kaufmann used the example of a SaaS company CEO with whom he met who claimed he was experiencing a 127% ARR growth. When Kaufmann's company did research, he found that the true growth rate was closer to 50%.
Kaufmann's firm modeled several common scenarios it commonly sees in the companies it encounters: hypergrowth, slow roll/steady growth, and growth with large seasonal effects.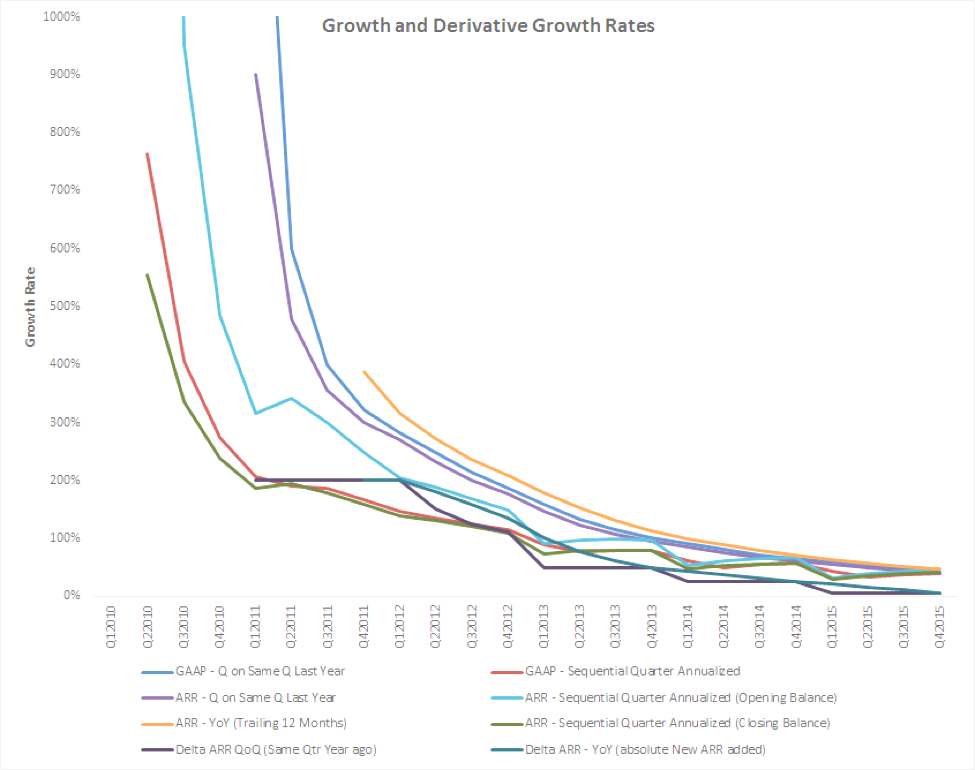 These growth rate figures tell a lot about a business. The changes in revenue growth rates are unlikely – so founders of startups should not be wish for dramatic changes to occur.
Growth rates decay by 15% Y/Y over time. This extended time not only increases the company's odds to reach what it considers to be exit velocity – but it also eats into the opportunity costs of the entrepreneurs to start their next venture.
Think3 Can Buy Your Startup so You can Build a New Company
If you own a modestly-growing startup, you may want to talk to Austin-based Think3, a new $1B private equity fund established to give SaaS startup founders the ability to sell their companies to go start a new 'high growth' company.
Think3 buys your startup, after a quick four-week due diligence period. Think3 then enables the founders to take their team in a 100-day knowledge transfer model, to go start their new venture. Think3 also gives the founders $500,000 in cash to help them with their new business through a no-strings/no-equity seed round.
Tryba says, "The 100-day knowledge transfer is a critical component to make Think3 successful and to ensure the startup continues to run smoothly after the founder and his team depart." Tryba and his team at Think3 ensure that the startup not only continues but thrives.
Think3 believes that startup founders hang on too long to their current companies, hoping for a miraculous breakthrough. But the odds of a dramatic turnaround in revenue growth are against them. Wishing and hoping waste valuable time that they could be spending building a new firm.
To wit, Tryba cites research which shows:
There has been a 30% decline in US startup exits over the last four years

15 years is the typical lifespan of a startup entrepreneur

Companies are staying private longer
Conclusion
Why would you want to continue to work with your modestly-growing company, given the probability that growth will continue to decline, as stated by the data?
Think3 CEO Tryba wrote in Medium.com, "After speaking to dozens of founders –we've come to the realization that founders really do want another shot. But they've always felt 'stuck, almost paralyzed' since they have so many people relying on them – current team members, investors, customers, their family, etc, and are afraid to make a move….They felt like it would be a failure unless everyone makes millions and millions of dollars off their idea and hard work."
Think3 gives these founders the opportunity to learn from their first experience, sell their business, and take them into your next startup.
One of the founders who sold to Think3 was honest when he confessed, "We wanted another 18 months on a final pivot that offered no value to the company or investors….We should have sold the company two and a half years earlier. That extra time was a waste."
You have known enough to create your startup, now, be smart about when it's time to sell!