Contents
Remote Work vs Freelancing
6 Types of Remote Work
What's right for you?
You don't have to be chained to an office desk 40+ hours a week to do meaningful work (or even go into the office!) Read more about the types of remote work available to workers in 2022, and find out which one appeals best to you.
In the wake of a global pandemic, millions of people have found themselves wondering if their current career path and mode of working is really their best option.
That's because formerly "stable" industries and large companies had to lay off literally millions of workers in 2020, destroying the idea of "job security."
What's more, a huge percentage of the global workforce began working remotely, realizing you don't have to be chained to a desk 40+ hours a week in order to do meaningful work.
Add the fact that billions of hours are wasted every year commuting back and forth from the office and it's pretty easy to see why remote work has become so appealing for so many people.
Maybe you find yourself asking the same questions:
Do I have to be tied to one company for decades?
Is working "in the office" really necessary anymore?
How many hours am I willing to waste on a daily commute?
If these questions have a familiar ring to them, working remotely is an opportunity you should explore. The good news is: remote work isn't going anywhere.
To help, today we'll explain a few of the most common forms of remote work in today's work landscape along with the pros and cons for each option.
Remote Work vs Freelancing
Before we explain the many remote work options, it's important to clarify one thing. Many times, when reading about remote work, you'll read about freelancing.
That's because, much like remote work, freelancing has experienced massive growth in the wake of Covid-19.
But working remotely does NOT necessarily mean you are working as a freelancer. In reality, freelancing is a career job choice in itself.
As a freelancer, you run your own business. As a remote worker, you may choose to run your own business or simply work for a stable company full-time in a remote location.
We'll explore the range of freelancing and remote work opportunities below.
6 Types of Remote Work
If you are ready to work remotely, here are a few different ways you can do it:
Freelancing
First, if you want to work remotely, you could become a freelancer. Keep in mind, however, that freelancing means not only doing the work you excel at (developing, designing, writing, etc.) but also running your own business.
It will be your job to find clients on a regular basis, collect payments, manage deadlines, pay taxes, and run your entire freelance business.
Joining the Gig Economy
Another option for working remotely is to join the gig economy. Made popular by sites like Upwork or Fiverr, the gig economy is built around the idea that companies and clients have small-to-medium-sized tasks (or gigs) that need doing on an irregular basis.
In that instance, they find a freelancer, usually through a marketplace, and hire them for a project. While many freelancers have built their businesses with gig marketplaces, it takes a real effort to find enough jobs to keep you in business.
Work from Home (WFH)
Another option for working remotely is to work from home (WFH). While technically many of these options include you working from home, the abbreviation "WFH" has come to primarily mean working for your employer while staying at home.
Hybrid (WFH + In-office)
As the pandemic begins to ease in some parts of the world, many people and companies are opting for a hybrid opportunity. Typically, this means an arrangement between employers and workers where they agree on set "in office" days and other "WFH" days.
This can help boost productivity and accountability since one of the biggest challenges of working from home can be staying productive.
Remote Friendly
Another remote working option is to work for a company that is "remote-friendly." This essentially means your company is open to occasional remote work, but expects you to be in the office the majority of the time.
It means if you have days where your partner is ill or you have to travel for a wedding, working remotely for those days is an option. However, long-term remote work that leaves you absent from the office for days or weeks at a time is discouraged.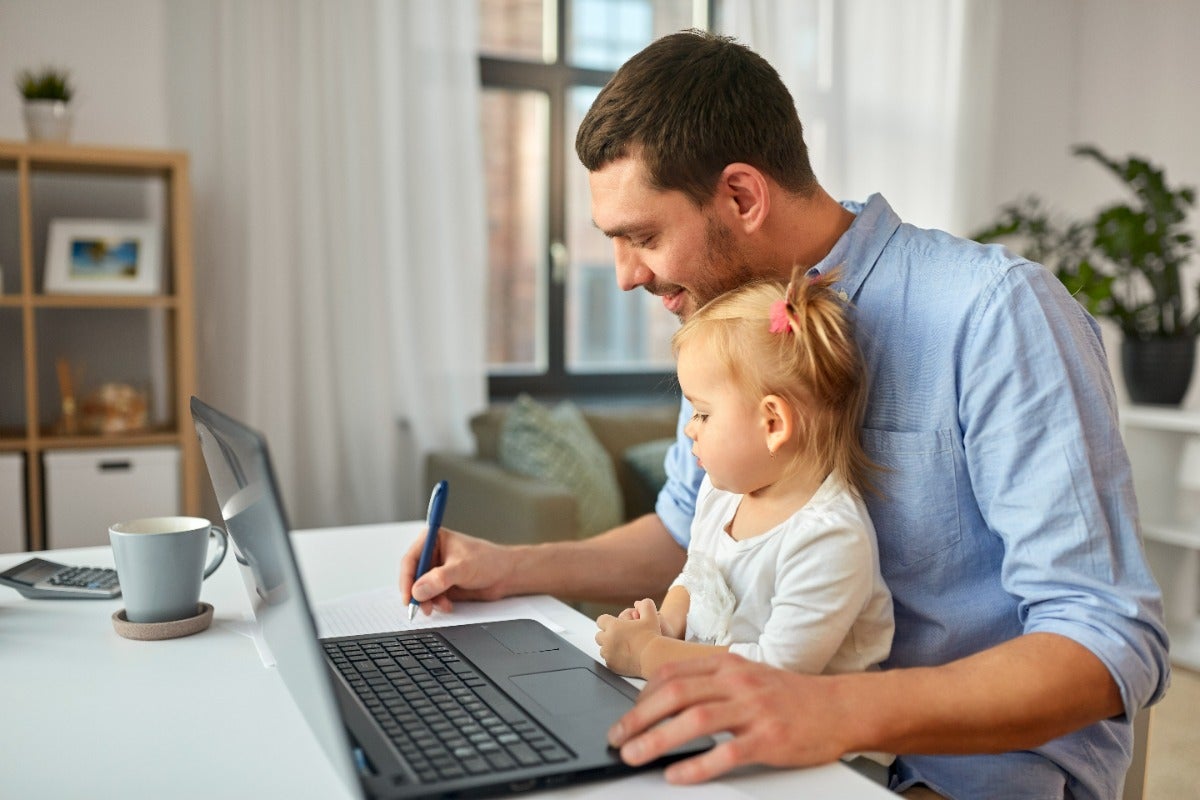 Fully Remote
Finally, there's fully remote work. When you get a 100% remote job, you're most likely not expected to ever come to the office.
In fact, you may never even meet the people you work with face-to-face. Many remote workers don't even live in the same country as their employers.
Many high-profile, well-paying companies (like these ones) are constantly hiring talented remote workers for full-time, 100% remote jobs.
With a fully remote position, you enjoy the stability of a traditional job with the flexibility to live and work where (and often when) you want.
At Crossover, we match top-tier companies with the best 1% of remote workers around the globe. Learn more here.
What's right for you?
Not all forms of remote work are for everyone. As you read through the list, there may be some options that seem more appealing than others.
The good news is: you don't have to stick with just one option for the rest of your career. Start with the forms of remote work that seem most interesting and achievable for you and then make adjustments as you go.
Regardless of which path you choose, remote work in all its forms can offer satisfaction and autonomy as you've never experienced. And there's never been a better time to try it.