Contents
Defining Hybrid Hysteria
The Remote Vs Hybrid Work Debate
The Four Types of Hybrid Work Models
1) The Flexible Hybrid Work Model
2) Remote-First Hybrid Work Model
3) Office-First Hybrid Work Model
4) The Fixed Hybrid Work Model
Hybrid hysteria is everywhere these days. As a remote leader if you allow yourself to get caught up in it, your company and its remote employees are going to be worse off than they were before. So, this article aims to give you the tools you need to decide which hybrid model (if any) will work for your company.
In 2023 alone, dozens of huge companies closed the door on full time remote working for their employees.
Starbucks, Meta, Amazon, General Motors, and Activision have turned their backs on the proven benefits of full time remote work and embraced new RTO policies.
The question is - how do you choose a model that takes productivity, company culture, remote collaboration, and social enrichment into account? How do you make sure that your decision is grounded in fact, and not sensationalist headlines?
Defining Hybrid Hysteria
Hybrid hysteria is a term used to describe leaders who are desperate to get their remote employees back to the office. By any means necessary. The hysteria part comes in because their reasons for veering away from remote work don't make much sense.
Romanizing office culture / demonizing remote work
Using personal or limited perceptions to justify canceling remote work
Basing decisions on faulty logic and cobbled together data
These leaders are settling for strict hybrid work policies that combine the worst of both worlds: erasing the benefits of remote work for their employees and company, while forcing everyone to adhere to compromises that do more harm than good.
It's important to be aware of your options, and to base your decisions on unbiased fact.
This article is going to clarify your options and help you quickly and easily pick the type of hybrid working model that will benefit your team.
While we believe that fully remote work will always be first prize – we know that it's not perfect for everyone. Finding the ultimate balance of autonomy and flexibility needed for you and your employees is a journey you must take.
The Remote Vs Hybrid Work Debate
Before you plunge headfirst into the icy waters of RTO mandates and hybrid work policies, let's look at some hard facts.
Full time remote work is still the most in-demand work arrangement for knowledge workers in tech. This 2022 landmark study by Topia proves that a whopping 94% of knowledge workers want to work from anywhere, in highly flexible environments. Rumor has it the other 6% were at the office that day, wishing they were anywhere else.
In March 2020, the great work from home experiment started. What economists like Nick Bloom discovered was that people were MORE productive when working from home. In a survey of over 5000 people, 40% were more productive with WFH, while the majority of the remaining sample (45%) were as productive as they always were.
This dispelled one of the largest myths about remote work: that it kills productivity.
The CEOs who were treating remote work like some kind of doomsday counter were wrong. Eventually the corporate world realized that remote work wasn't going anywhere, and it would need to become a part of daily life: queue hybrid work.
As the New York Times rightly said: The office was never one size fits all. It was one size fits some, with the expectation that everybody else would squeeze in.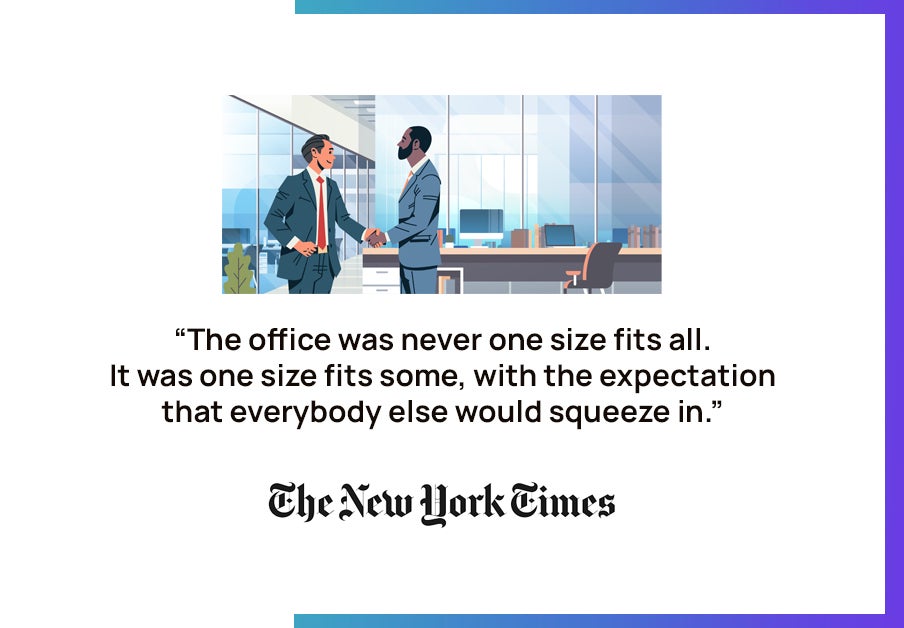 People are tired of squeezing themselves into boxes that never fit.
Most remote employees don't want to go back to the office. They prefer the lifestyle that resulted from the great work from home experiment. And can you blame them?
With autonomy and flexibility, knowledge workers realized that life could be better. They could move out of cramped city apartments. They could see their kid's important moments. They could build a life where work and fulfillment coexisted in the same space.
Flexible hybrid models are an attempt at compromise. People were ready to revolt! Remote work is a right. You can't strip people of their rights once they realize they have them.
So now hybrid working is a scale.
With remote work on the most favorable end, leading all the way back to the office where no-one really wants to be. It's a middle ground created out of compromise.
It's Cinderella's three ugly sisters (and a vicious stepmother). No-one really wants them at the ball, but here they are taking up the dance floor anyway.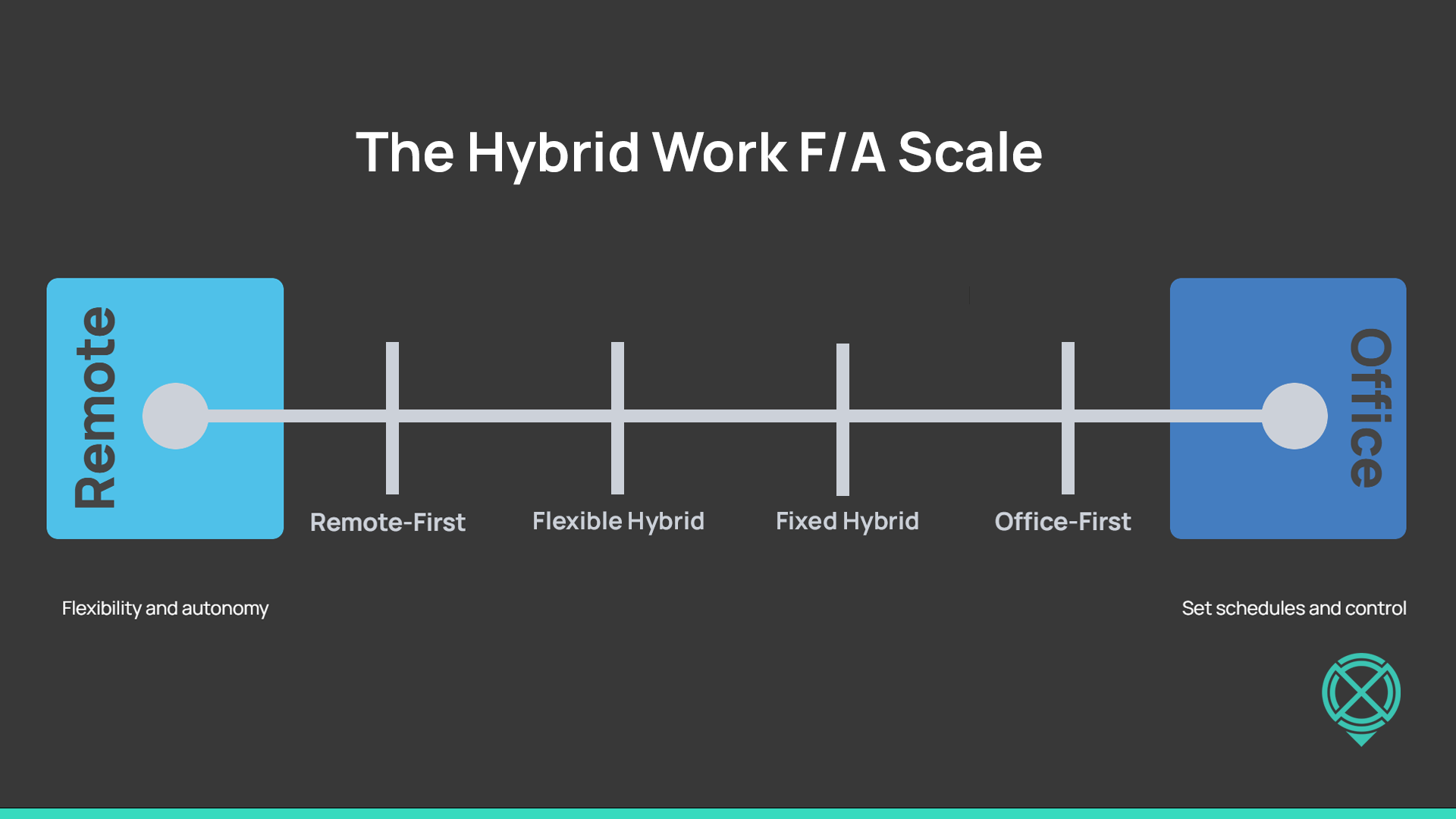 As you choose whether to stick to remote or switch to a hybrid working model, it's critical to keep this in context.
Let's review your choices.
The Four Types of Hybrid Work Models
There are four types of hybrid working model to entertain if fully remote work doesn't tick all of your boxes. Each of the models are widely used in tech and represents a degree of compromise on the bouquet of benefits that remote work delivers to your people every day.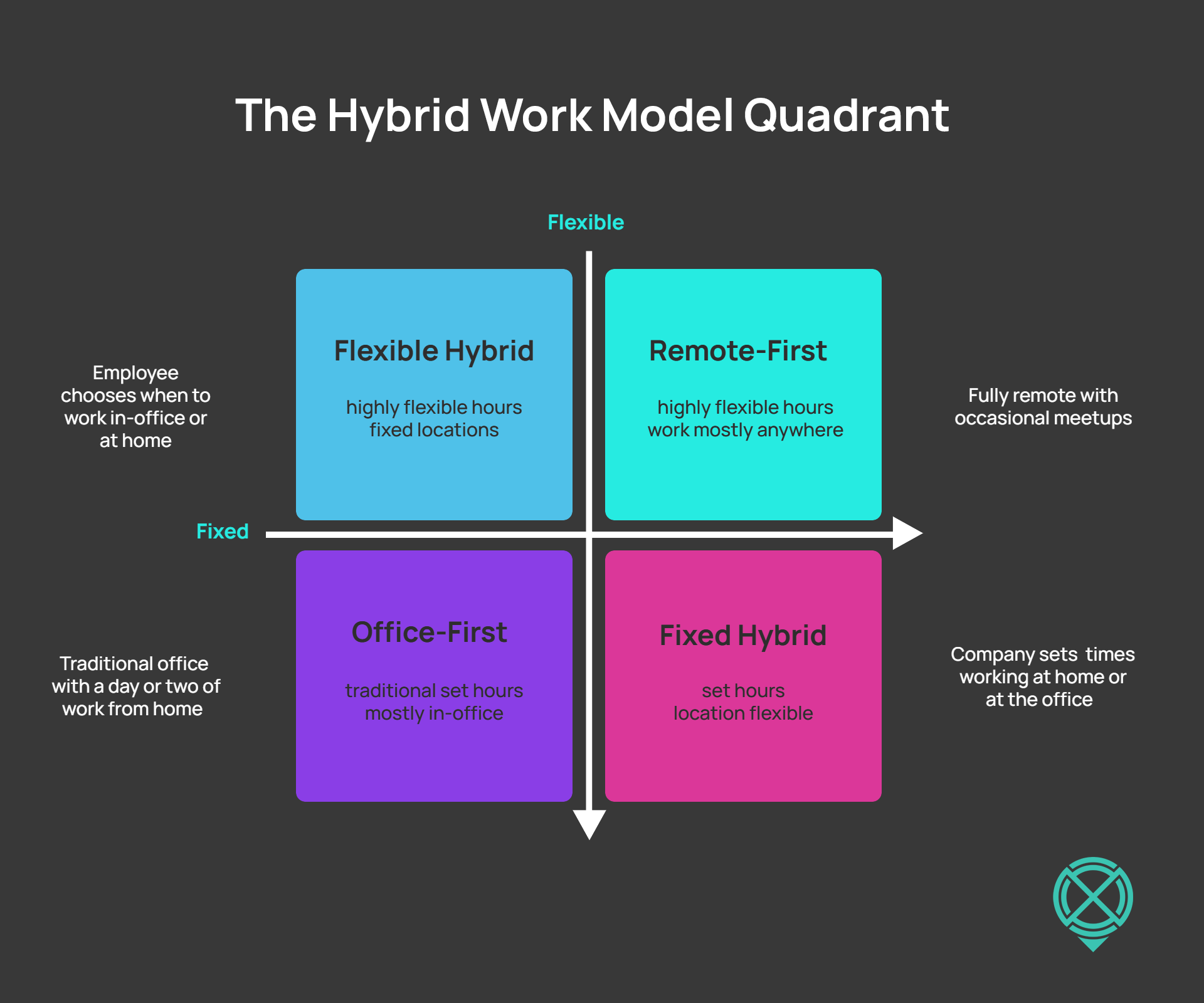 1) The Flexible Hybrid Work Model
(Choice to work both ways, one or the other)
Can be the most autonomous model
Highly flexible hours
Location is flexible but often limited to home and office
The flexible hybrid working model promises your employees flexibility with the 'where' and the 'when' in their day. They can choose to work remotely in an asynchronous capacity when away from the office.
Because all of your remote employees have this choice, everyone else will have to compensate for the few who prefer commutes, watercooler chitchat, and shared fridges.
Save money for yourself (office space) and employee (commute)
Ideal for employees with shifting schedules who prefer blended flexibility
Syncing hybrid work schedules for in-person days is challenging
Example: Monalisha just joined a new company and has chosen to work in-office for 2 weeks, then remotely for 2 weeks each month.
Seth is a coder and works from home in the evenings on Mondays and Fridays. He's in-office Tuesday through Thursday but starts at 11 so that he can drop his kids at school every morning. His boss doesn't mind if he changes his monthly schedule if he gives her a week's notice.
2) Remote-First Hybrid Work Model
(Few if any workers are onsite, select local meetups)
High degree of autonomy
Work from anywhere with occasional meetups
Working hours are flexible
The remote-first hybrid work model adds in-person work to the schedule of an employee who works remotely. They could be expected to meet at the office or a coworking location at times that suit their team.
Remote employees use this to touch base, collaborate and socialize. If you can't do 100% remote, this is the next best thing: fully remote with occasional meetups.
Reduces costs and increases productivity
Great for asynchronous collaboration
Example: Sandra works remotely 98% of the time, and flies to meet colleagues twice a year at group team building events. Damian works asynchronously with weekly meetings, with a single day dedicated to a team coworking meetup every second Tuesday of the month.
3) Office-First Hybrid Work Model
(Remote-friendly office model with days at home)
Low autonomy with set structures, controls, and schedules
Traditional hours within the 9-5 or similar
Location is fixed in-office and occasionally at home
The office-first hybrid working model gives office workers the opportunity to pick a day or two a week to work from home. This model uses remote work as an add-on or incentive to the daily grind of office life.
This is the least effective hybrid model because it's decidedly not remote-friendly – yet that's often what they call it. Autonomy and flexibility are little more than a dangled carrot.
Greater flexibility than pure in-office work
Useful as an incentive or basic perk for office workers
Erases the majority of benefits from remote work
A challenge to sync hybrid work schedules
Example: Ozzie works his normal 9-5 in the city but has been given the option of working from home on a Friday every second week. Diya transitioned from fully remote back to an office environment after the pandemic, with normal hours. Her team regularly gets Wednesdays to work from home, and they can win bonus remote days if their team numbers are up in-office.
4) The Fixed Hybrid Work Model
(Preset hybrid schedules and hours for employees)
Low autonomy with preset hybrid schedules
Location is fixed according to a managed schedule
Working hours are preset and fixed
The fixed hybrid working model allows for set days of remote working and working in-office. This is split by teams who alternate days, or remote days are predetermined for everyone.
With this model the 'where and when' are fixed by the company. A great hybrid work model but one devoid of real flexibility, with the tiniest sprinkle of location flexibility baked in for special occasions.
Easier team syncing for in-office collaboration and teamwork
Company has control of scheduling and hybrid management
Removes choice which erases many remote work advantages
Example: Ivan's company co-ordinates his team's fixed hybrid schedule so that it's always changing. He's currently working for 3 weeks in-office, then will have a week of remote work. Last month, they were allowed to work from home on Mondays and Fridays, but travel was not permitted.
Sintra sets their team's schedules every week according to the projects on the board. This week, clients are coming in for a lot of meetings so no remote work is happening. Next week, they are likely to give everyone on their team Wednesday-Friday to work from home.
Hybrid working is the ultimate compromise. And like many remote leaders, you will have your reasons for being concerned about employees not returning to the office.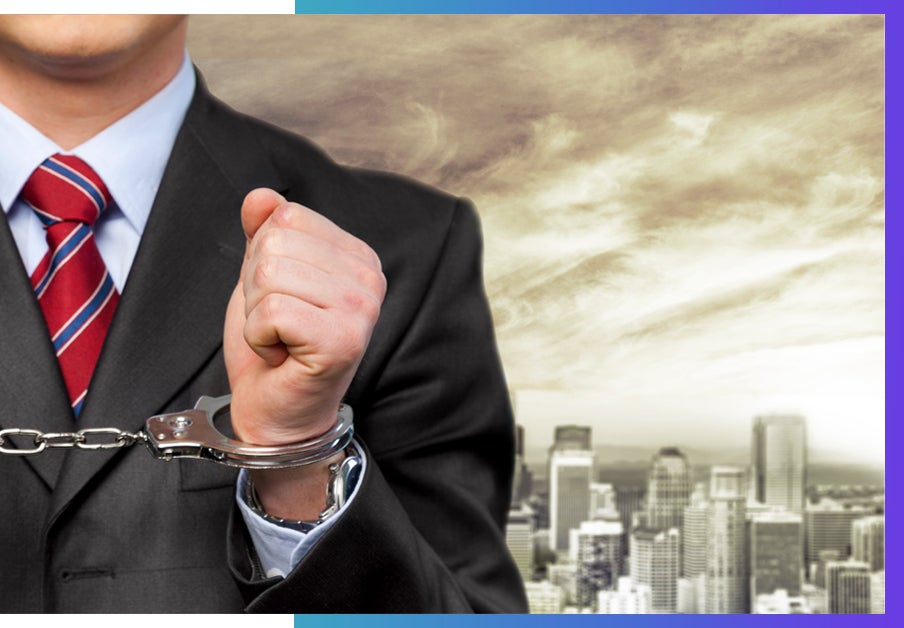 Take a minute to consider the fresh crop of challenges you may be planting by choosing the wrong hybrid model. Consider the model that will help your team excel! Your employees' lives will be impacted one way or another, by the policies you implement.
Hybrid work can be rewarding for everyone, if you're careful.
My advice is to ask your remote team. Get them to weigh in on staying fully remote or transitioning to a hybrid arrangement that gives them every opportunity to thrive.
Pick a hybrid working model high on the F/A Scale that works for everyone.
The more you allow your teams to work remotely, the happier everyone will be. And happy employees work harder, innovate better, and stay longer at companies that respect the balance they need to be great at what they do.
Avoid hybrid hysteria and trapping your people with poorly thought-out policies. Instead, take a step back and measure the impact of your decision.
In the end, no system is perfect. The best you can do is collect quantitative and qualitative data on the policies that might work for you, before giving them a real-world test run. Do that and you'll already be ahead of the pack.
And now, you have what you need to get started. Good luck!