Contents
What CEOs Have Learned About Hybrid Work vs Remote Work
We've Heard From CEO's - What About The Employees
Zooming From The Boardroom Or The Next Cubicle
When The Hybrid / Remote Policy Isn't A True Hybrid / Remote Policy
Pay Cuts For Workers Who Want To Stay Remote
Remote Work Increases Productivity Vs Hybrid
What To Do With The High End Real Estate
Why are so many leading software tech companies not understanding the future of work is remote? Thankfully innovative CEOs are finding out even hybrid work policies will have a bad effect on their organization - in both profits and employee happiness. Some even go as far as calling hybrid work 'hell'.
CEOs are finally getting what Crossover has always known. That remote work is the future of work and recently fashionable post COVID hybrid office policies 'are the hell of half measures'. When leading technology CEOs such as Yelp co-founder and CEO Jeremy Stoppelman start calling hybrid offices 'the worst of both worlds', you know the writing is on the wall for hybrid work.
Major tech organizations are starting to feel the heat about hybrid policies. There are many factors about why CEO's and employees are finding Hybrid work hell.
What CEOs Have Learned About Hybrid Work vs Remote Work
Leaders are finding out the benefits of remote-first over hybrid, whether increased productivity, extended pool of talent or decreased real estate costs. Below are what some CEOs think about hybrid work policies versus remote work.
Yelp CEO Calls Hybrid "Hell"
Yelp CEO and Co-founder Jeremy Stoppelman had a very strong response to hybrid offices, calling them 'the worst of both worlds'. In a recent interview with the Washington Post, he noted that two things had become increasingly clear following the pandemic: workers want to do their jobs remotely and the company benefits from meeting the demand.
Stoppelman acknowledged the growing popularity of hybrid policies, but called them 'the hell of half measures'. "It's the worst of three options," he said.
In response to moving to a remote-first policy following strong feedback from the team, Yelp will close underutilized offices in New York, Chicago and Washington DC. Savings from this office space will now be used to reinvest in hiring, employee benefits and perks, and the business itself.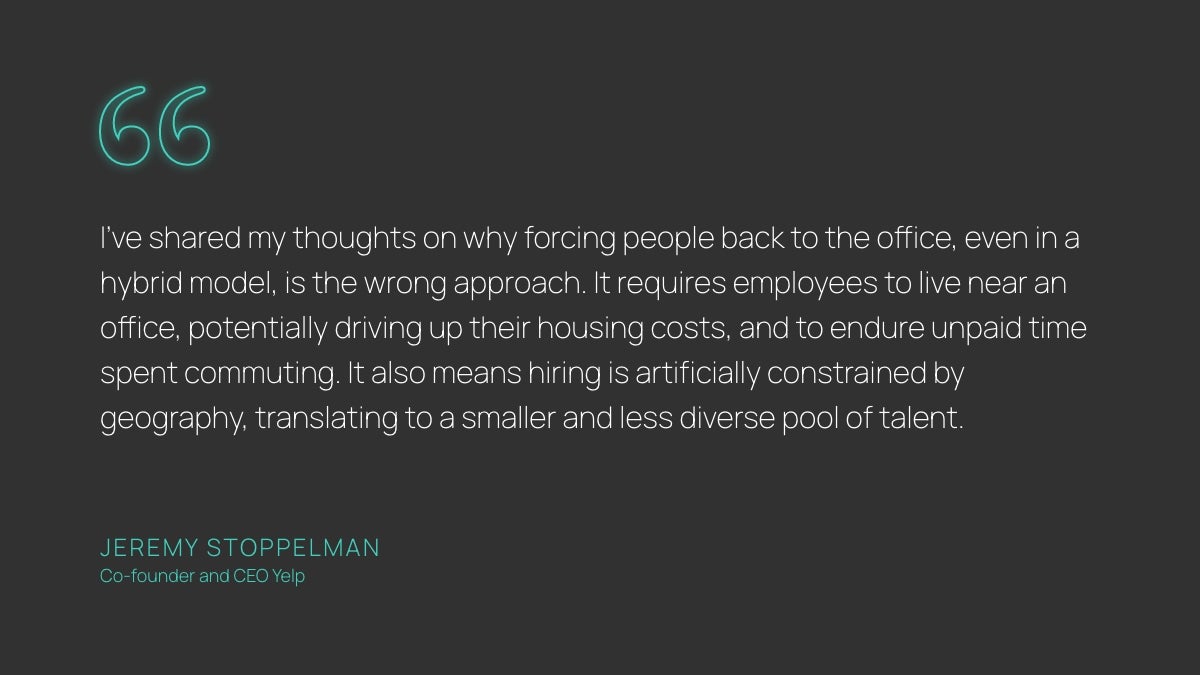 AirBNB CEO Knows The Office Is Over
The Washington Post recently had an exclusive interview with AirBNB CEO Brian Chesky where he said, "The office as we know it is over. It is an anachronistic form factor from a pre-digital age." He also stated that, "Hybrid work is also not the ideal."
In May 2022, AirBNB introduced a new remote-first that allows employees to live and work from anywhere in their country without a change in pay. They also can work in more than 170 countries for up to 90 days in each location.
Just to prove employees around the world are ready for the future of work, Mr Chesky said the AirBNB careers page had more than 1 million hits in two weeks. Mr Chesky summed up his thoughts about remote vs hybrid work, "Ultimately, I don't believe that CEOs can dictate how people work. The market will. The employees will."
Slack CEO Says Making Workers Return To Office Is A 'Doomed Approach'
In 2020, Slack CEO Stewart Butterfield's thoughts on remote work were very different to today. According to an interview with the Washington Post, Mr Butterfield says "If you asked [me] in February of 2020, could the whole company go remote and maintain the same level of productivity? I would have said no. When something you thought was impossible turns out to be possible, you've got to ask yourself, 'What else do I think is impossible that could actually be possible?' "
He was also very clear about the future of work: Don't ask workers to return to the office. It's a "doomed approach."
"When I see headlines about CEOs trying to lure employees back to the office, I feel like it's probably a doomed approach," Butterfield said in the interview. "Work is no longer a place you go. It's something you do."
Butterfield said he quickly learned workers could be equally productive and creative working remotely than in-person. This learning may not have come about without the closure of the company's offices last year due to COVID.
It also led to Slack implementing a permanent remote work policy in 2021 which has enabled them to attract top talent and retain their current employee base.
Taskrabbit CEO "Doesn't Force People To Go Back Into The Office"
Taskrabbit CEO Ania Smith made the decision to close four global company's offices after introducing a remote-first strategy in April 2022. This followed employees working from home on a voluntary basis, from which the employees' habits and desires were clear.
"We don't force people to go back into the office, but instead are allowing for connections `Organizations will start to feel the hell of hybrid work policies when their top talent leaves, moving to more progressive remote-first organizations.
We've Heard From CEO's - What About The Employees
Hybrid work is also the hell of half measures for employees too, for a variety of reasons. Here we will delve a little bit further into why.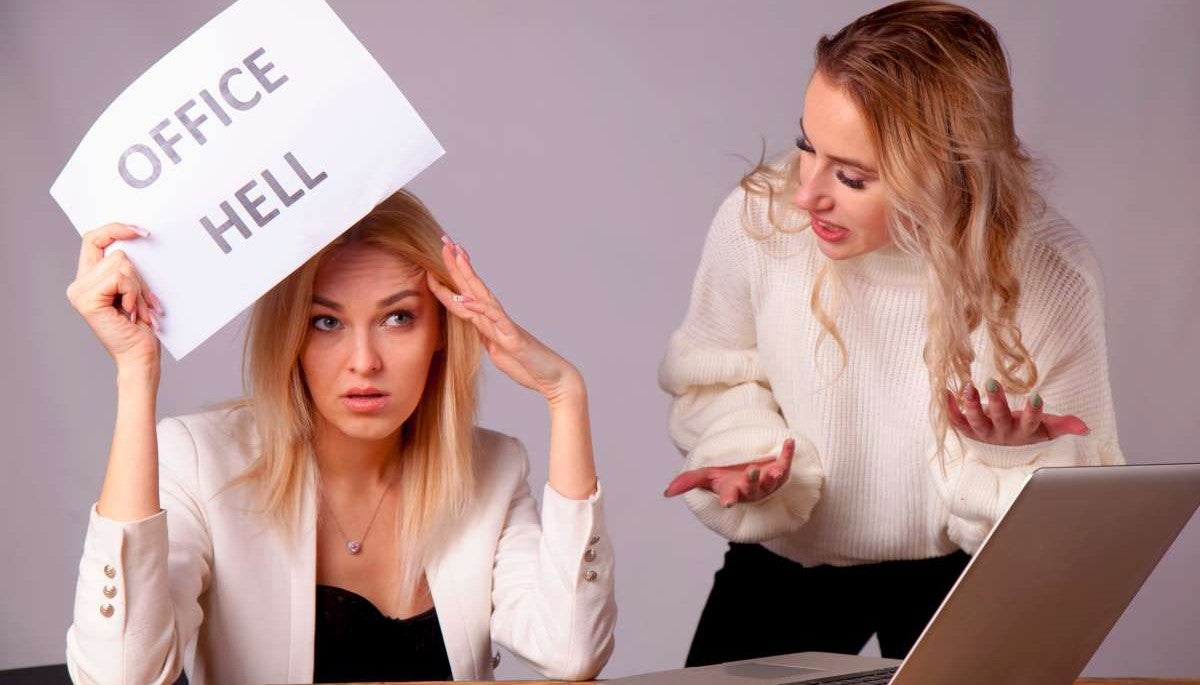 Zooming From The Boardroom Or The Next Cubicle
Yes. Employees will have to zoom even though the majority are in the office - some team members will be on their WFH day. How productive and engaging for employees and so much for 'we need in person collaboration' requirements to come back to the office.
The Hybrid Zoom
This sounds like a remote work car - introducing the Hybrid Zoom. Unfortunately it has the real possibility of crashing. Let's look at a typical Hybrid Zoom:
It's time for JK Investments (not a real company) weekly team meeting, but it's Jane's and Bob's WFH day. The whole team heads to the boardroom so they can zoom in. The meeting starts well… cue slapstick music.
Participants start having side conversations, making it hard for Jane and Bob to listen and actively participate. Today's boardroom image is the size of a postage stamp and people are starting to mumble and turn away from the microphone.
Poor Jane and Bob are trying to be productive and contribute to the meeting, but they need reading glasses to see who's talking and hearing aids to hear. Then they try to understand what was said as part of the mumbo-jumbo and finally give up and observe in silence.
For Jane and Bob it's all the worst parts of a meeting with none of the donut and coffee perks. It starts to make their job hell. They get passed over for promotions as they're seen as not being involved by management. They become disengaged with the entire process and job.
The Three Musketeers Zoom
'All for one and one for all'. How about Zooming your colleague from the next cubicle? Some organizations have established a three musketeers approach to zoom meetings: 'All for one and one for all', meaning all participants individually use zoom, even if they are sitting in the next cubicle or have a boardroom available. This evens out the meeting playing field, and gives everyone a chance to participate.
It also allows greater control of direction and involvement. The host can use the "all powerful" mute button to control the conversation and silence that one dominant attendee. Hands up who doesn't secretly wish they could use duct-tape for that person with in-person meetings.
While the three musketeers approach is a great step in the right direction for zoom meetings with a hybrid workforce , there are still issues for everyone.
I have personally been in a meeting (I was a remote attendee) where four participants in one cubicle space zoomed from their desks. With none using a filter you had both the face and the backs of three others….sitting at their desks…. Not the best view.
When The Hybrid / Remote Policy Isn't A True Hybrid / Remote Policy
You know those organizations who proclaim their roles are remote, but still expect employees who live within commuting distance to come in-office (even on a hybrid schedule)? Those in-office employees are expected to remain as if they are caged in a zoo voluntarily, while their colleagues are free to roam the plains.
Those "local" employees aren't exactly going to be happy about that situation. It's like saying only half of senior year can attend prom based on where they live. This can lead to not too happy employees, with them thinking others are getting a better deal than them.
What happens next? They find an organization with a remote level playing field and leave their current role, continuing the 'great resignation' cycle.
By not having a clear standardized remote work policy that covers the entire workforce leads to the 'hell of half measures'. Organizations can't dictate to some but not others, and expect happy workers.
Pay Cuts For Workers Who Want To Stay Remote
Imagine being paid a great salary in Silicon Valley and being told to work from home during the pandemic. After becoming more productive and happier, you're now mandated to come back into the office three days per week. Only a handful of employees can remain fully-remote and according to the Washington Post these employees will receive a pay cut. Way to treat your loyal employees Google!
Unfortunately it's not just Google who are making their employees take a pay cut based on location. Most large Tech firms (including Alphabet, Amazon, Apple, Meta and Microsoft) advised those employees who wished to continue to work remotely they could expect a pay cut based on their current location. This is despite them receiving a full 100% of salary during their remote work period during COVID.
The big decision here is whether these organizations value the productivity these employees provide or whether they really want their top talent to leave (as we saw with Ian Goodfellow leaving Apple because of their remote work policy).
The hell of half measures will see increased employee turnover.

Remote Work Increases Productivity Vs Hybrid
So many reports have shown remote-first employees are more productive than full time in-office or even hybrid employees. Workers are reporting feeling less productive and exhausted come Friday with even three days in the office. "I'm just wiped out," says Lauren Scott, an assistant at a media company in Pennsylvania. "I don't know how I used to do it."
Why would organizations look to decrease productivity by continuing with a hybrid work policy? Less productivity means less profits. Less engaged employees means higher employee turnover. Both can definitely end up being 'hell' on an organization's bottom line.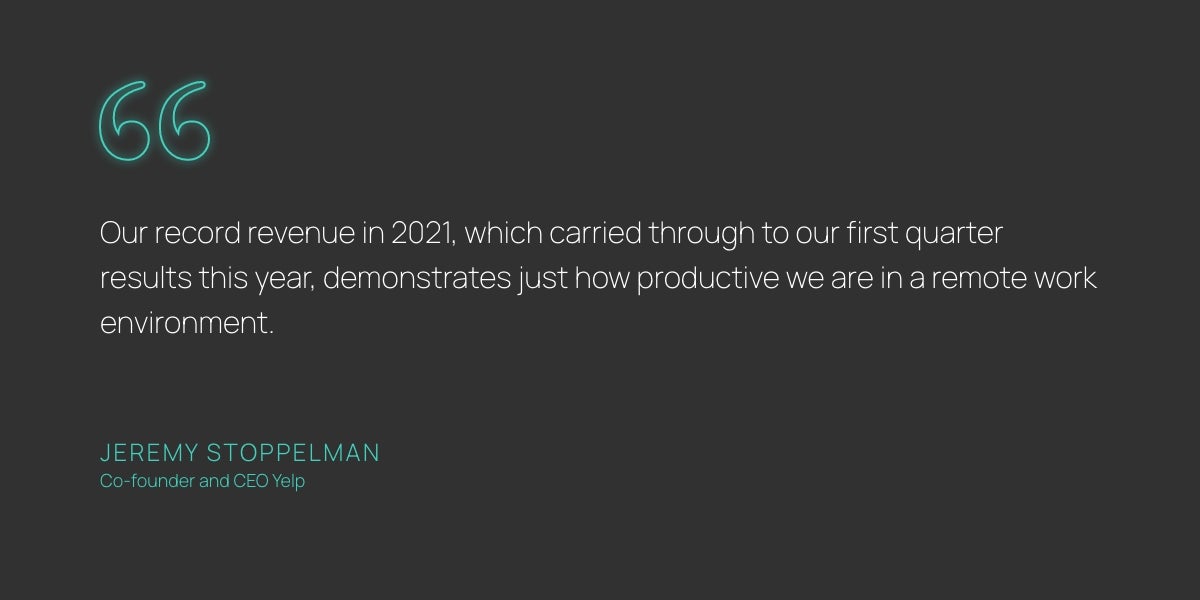 What To Do With The High End Real Estate
Organizations spend millions of dollars annually on real estate. With a hybrid model, you still have to retain a large office set up with enough space in case employees want to come into the office. Even if you're telling your employees 'in person collaboration' is required, you're still going to have people on their work from home day (leaving the team to decide should they hybrid zoom or three musketeers zoom?)
Let's look at this with two ways forward (you also don't HAVE to close all your offices):
With a hybrid work policy, not reducing your office footprint will lead to profit and loss hell with underutilized space not getting any ROI.
For those remote from hybrid innovators - reducing their office footprint and reinvesting those savings into their business and people will yield results. They can hire the best talent globally, and more productive workers will have a massive impact on profitability.
Honestly, what of the two options would give your organization the best profit and result.
CEOs - don't continue to put your workers through the hell of half measures. Time to move remote-first.