Contents
#1: Google Workspace (9.5/10):
#2: Loom (9.4/10):
#3: Time and Date (9.3/10):
#4: Miro (9/10):
#5: ClickUp (8.8/10):
#6: Slack (8.5/10):
#7: Discord (8/10):
#8: DailyBot (8/10):
#9: Confluence (7.7/10):
#10: Figma (7.5/10)
Using This List of Asynchronous Tools
Need a list of asynchronous tools that can bend time for your remote team? This list of our top tool picks will make you feel like you've outsmarted the clock.
We all know remote management can feel like herding cats through a field of laser pointers. That's where your asynchronous communication tools come in.
These collaboration management tools are the silent heroes, pulling the weight of the Earth's rotation to align everyone's "morning" coffee time.
They are the antidote to the overlapping time zone blues and the headache remedy for that 'ping' filled group chat nightmare.
Get ready to improve remote team communication and project management with these top 10 tools that will catapult your team into the future.
Here's your top 10 list of asynchronous tools.
Google Workspace, formerly known as G Suite, is a comprehensive suite of cloud-based productivity and collaboration tools developed by Google for knowledge management.
It's a central command center for remote teams, combining communication, collaboration, and document management in one seamless package. Your team can utilize Google's numerous tools for collaborative work.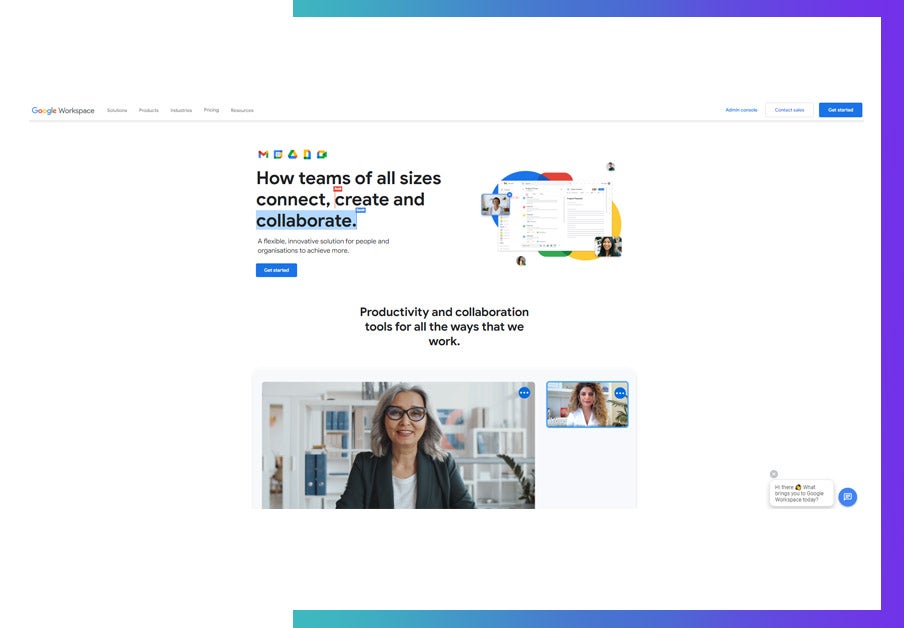 Key Features:
Integrated communication tools: Gmail for email, Google Meet for video conferencing, and Google Chat for instant messaging.
Collaborative document editing: Google Docs, Sheets, and Slides allows for real-time and asynchronous collaboration. Need someone to see your work? Tag them in the document.
Google Drive for secure cloud storage: Makes it easy to share and access files from anywhere.
For those moments when typing out instructions won't cut it, Loom steps in to save the day. This asynchronous communication tool specializes in creating easy-to-follow, video-based demonstrations that replace the need for live meetings.
Whether it's a complex process or a step-by-step tutorial, Loom helps your team visually guide their colleagues through tasks at their own pace. This way they eliminate the time constraints of synchronous meetings.
Key Features:
Screen and Camera Recording: Record your screen, yourself, or both to provide clear and comprehensive instructions. This feature is accessible on any device using Loom's desktop and mobile apps, or the Google Chrome extension.
Video Sharing: Once your instructional video is ready, you can share it with your team members using universal links. They can view it at their convenience, pause, rewind, or replay as needed.
Time-Stamped Comments: This feature allows viewers to leave comments at specific points in the video, promoting clear and context-specific discussions. This also aids in providing feedback or asking questions about particular steps in the process. Perfect for project management!
Time and Date is a classic, but essential tool for remote managers juggling remote team members across time zones. Scheduling a meeting? Need inspiration but don't want an energy drink?
Time and Date is your ally in decoding the cryptic world of time zones and planning meetings that respect everyone's internal clock. Use this asynchronous communication tool every week.
Key Features:
World Clock: A feature to see the current time in cities and countries worldwide, so you know when your remote team is awake or asleep.
Meeting Planner: Find the best time across time zones for your team meetings with this feature. It's like having an international personal assistant.
Time Zone Converter: Convert times instantly as you type and find future dates with ease.
A visual collaboration tool that provides a digital workspace for teams to map out their ideas and workflows. Miro is designed to facilitate brainstorming sessions, project planning, user story or journey mapping.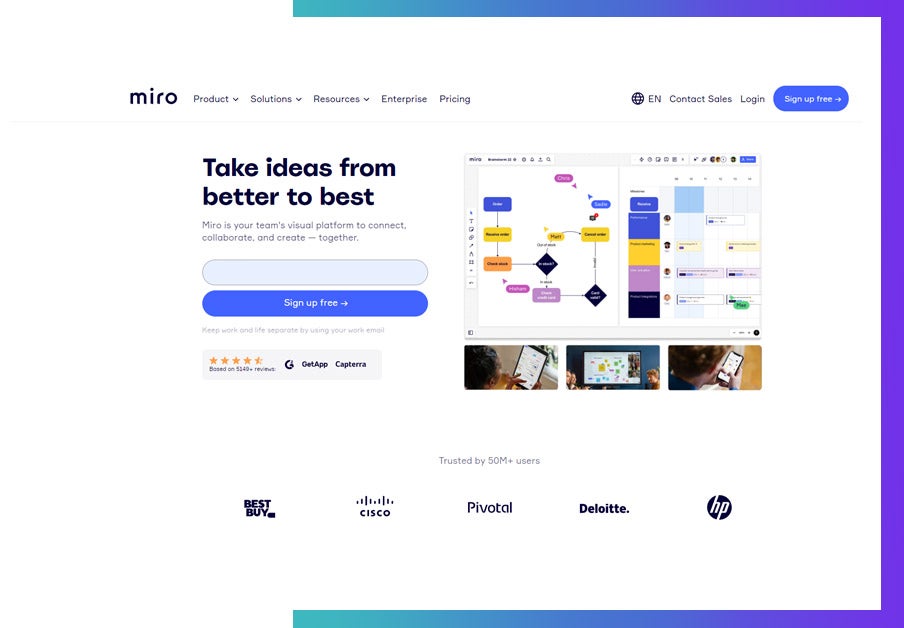 For remote managers, Miro is like a 24/7 ideas festival in the cloud. Picture an interactive, ever-evolving whiteboard where your team can splash their brilliant thoughts, any time, any place.
Thanks to seamless integration with other tools, it's like rallying your team in a single room, minus the pesky time zone math. With Miro, making great strides in asynchronous work is not just possible, it's a walk in the park.
Key Features:
Pre-Built Workflow Templates: Offers instant access to various business model canvases, user story maps, fishbone diagrams, and mind maps.
Resource Integration: Allows for easy addition of images, documents, spreadsheets, and PDF's to your workspaces. You can brainstorm separately, then together as a team.
Tool Integration: Seamlessly integrates tools like Jira, Trello, or Zoom, directly into your whiteboards to centralize your resources.
ClickUp is a cloud-based productivity tool that enables teams to manage projects, tasks, and documents in a single location. It's customizable and suitable for businesses of all sizes and industries.
ClickUp is the magician's hat of asynchronous productivity tools for remote managers - it's brimming with surprises and efficiencies. Picture it as your team's digital HQ, where tasks, docs, chats, and goals coexist seamlessly.
As tasks are completed, they "click up" to the next phase of your project's workflow, creating a dynamic progression path. This way, multiple teams can work seamlessly across various stages of a project, ensuring smooth transitions and continuous momentum.
Key Features:
Custom Statuses: Enables teams to create unique statuses for tasks to match their workflow.
Multiple Views: Offers different ways to view tasks including list view, box view, board view, and more.
Docs & Wikis: Allows teams to create, share, and collaborate on documents in real-time.
Slack is an asynchronous communication tool that supports direct messaging, group discussions, and integrations with a wide array of productivity tools, which makes it an excellent tool for both internal and external communication.
Messaging apps like these are great for both synchronous communication and asynchronous communication.
Do you have a team that's more spread out than toppings on a pizza? Slack may be for you. It's a digital playground where conversations turn into actions and emojis have a language of their own.
With a buffet of channels for every topic under the sun, Slack keeps your team connected, even when the time zones don't play nice. In a remote work world, it's your team's lively chatroom, mixed with a filing cabinet for ideas.
So, don your best pair of virtual chinos and dive into the whirlwind of productivity that Slack offers!
Key Features:
Channels: Allows for organized conversations in dedicated spaces known as channels.
Integrations: Slack integrates with over 2,200 other apps, allowing users to pull in information and functionality from those apps directly into Slack.
Voice and Video Call Options: Offers built-in voice and video calling, and also allows for screen sharing.
Originally designed for gamers, Discord has evolved into a general-use platform for various communities. It offers voice, video, and text communication channels, along with a host of community management features.
Ever thought your work needed a touch of gaming spirit? Enter Discord, the one-stop hub where work meets play. Originally the watering hole for gamers, Discord now brings its A-game to the professional world.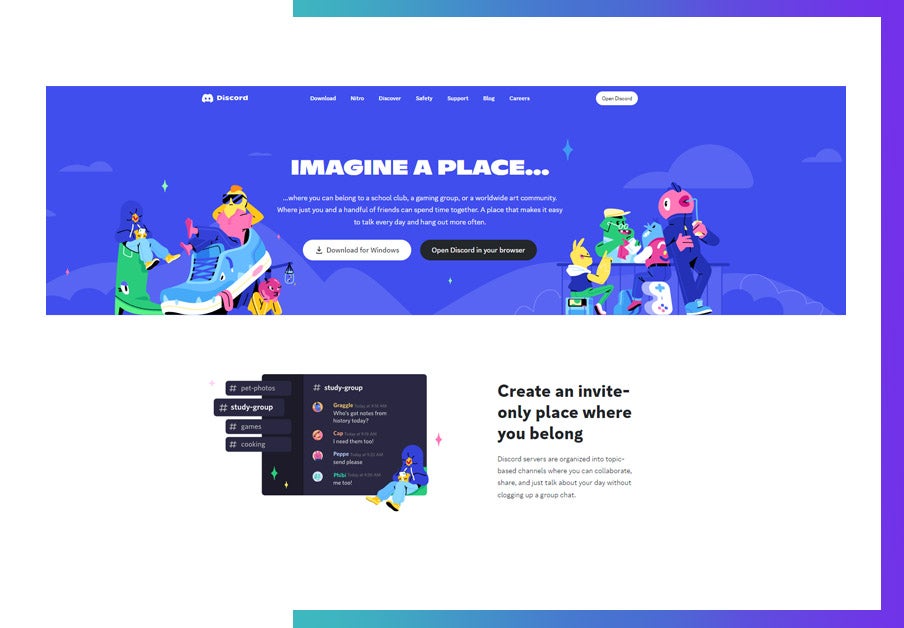 It's a platform where voice, text, and video calls blend seamlessly into a melting pot of async communication. Imagine an office where you can slip into different rooms (read: channels), and catch up on discussions at your own pace.
Discord offers exactly that, but without the awkward office coffee. It's your office, reimagined in pixels! PS: It's also an amazing platform for team collaboration and generative AI image creation (ask Midjourney).
Key Features:
Channels: Supports creation of voice and text channels for different topics or groups.
Screen Sharing and Video Calls: Allows users to share their screens or host video calls directly in a Discord server. Video communication is solid.
Roles and Permissions: Provides detailed control over who can access and manage different areas of your remote community.
DailyBot is a chat and collaboration tool that integrates with multiple communication platforms and focuses on fostering engagement and mental health in remote teams.
DailyBot focuses on interactions and motivations, especially with async teams who do a lot of deep work during the day as they're working in their virtual offices.
This tool allows businesses to provide positive feedback to employees who experience limited face-to-face interactions with its Kudos feature to help foster a culture of appreciation and recognition. You could say the tool moonlights as a wellness guru with mental-health check-ins.
Key Features:
Multifaceted Integration: Interacts with other communication tools like Teams, Slack, Google Chat, Discord, and Telegram.
Wellness Watchdog: Provides a mental health check-in to keep employers aware of their employees' wellness.
Progress Reports Across the Globe: Allows team members to report their own progress, regardless of the time zone they're in.
Confluence is a content collaboration tool that helps teams collaborate and share knowledge efficiently. With Confluence, your team can create, share, and collaborate on projects all in one place.
A powerful asynchronous communication tool, confluence is run by the folks over at Atlassian - so you know it's going to be great with integrations for project management, meeting management and asynchronous video.
Key Features:
Page and Space Organization: Allows for the creation of dedicated spaces and pages for different projects or teams.
Integrations: Offers seamless integration with other Atlassian products, like Jira.
Page Versioning and Permissions: Keeps track of changes made to pages and allows for control over who can view and edit content.
Ever heard the sound of a thousand mouse clicks as remote design warriors engage in fierce combat with pixels and vectors? Figma is the sensei, the grandmaster, and the dojo where design dreams come to life, or sometimes face a swift (but constructive) chop to the neck.
It's like a canvas that stretches across continents, where design disciples from different time zones can unleash their creativity asynchronously. There's no need to sit in a drab office sipping stale coffee. Figma is the lifeblood of remote teams that embrace the ancient art of... click-fu design.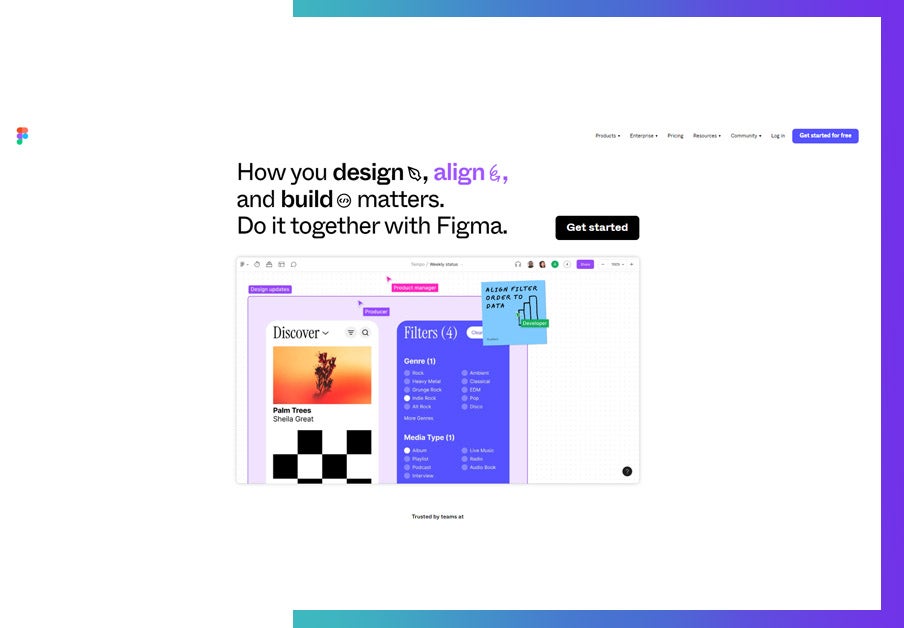 Key Features:
Multiplayer Editing: Imagine a world where design ninjas can wield their brushes and swords... um, I mean, cursors... together! Figma's multiplayer mode lets your team edit designs simultaneously. It's like a design battle royale, where the last pixel standing wins.
Version History Time Travel: Ever wish you could travel back in time to when your design was less chaotic? With Figma, that's exactly what you can do. Dive into version history, and restore the balance in your design universe by reverting to an earlier state.
Component Libraries and Style Guides: Keep your designs as sharp as a ninja's shuriken with Figma's component libraries and style guides. Reuse elements, maintain consistency, and ensure that your design dojo remains harmonious and free of clutter. That's design Zen right there.
Using This List of Asynchronous Tools
In the realm of remote management, navigating team chaos is like herding cats through a time warp. With this list of asynchronous tools, you can wrangle your remote teams with the ease of a seasoned cat whisperer.
They range from Google Workspace, your virtual command center, to Figma, the dojo of remote design warriors. Tools like Loom take the sting out of long-winded emails, while Time and Date decodes time zones like a seasoned cryptologist.
Miro turns brainstorming into a 24/7 cloud-based festival, and Discord brings a gaming spirit to your work chat.
So, refill your coffee, and embrace these asynchronous technologies that break time barriers, making remote management less about wrangling cats and more about fueling productivity.
There are more tools where that came from. Find them here.