Contents
The Remote Work Leadership Awards (2023)
1. Dr Gleb Tsipursky
2. Sarah Cunningham
3. Kaleem Clarkson
4. Chase Warrington
5. Tara Vasdani
6. Chris Herd
7. Laurel Farrer
8. David Burkus
There are hundreds of remote work leaders out there. But who should you follow and why?
I asked this question recently and it inspired me to create this list of the who's who of remote work.
This will be an annual list, where I call out the extraordinary style, ideas and content made by the movers and shakers in this space.
It's been three years since the world recognized the value of working from anywhere. I set out with a goal to recognize the top speakers, writers, creators and pioneers of remote work this year.
After all, these aren't just any leaders – these are the luminaries who are making a difference. The ones who are standing in the way of tradition and are forging new paths for change.
On a global level.
So, here are my top eight, in no particular order.
They don't just lead remotely, they eat, sleep and breathe the remote life.
And they are changing the way people work, forever.
The Remote Work Leadership Awards (2023)
1. Dr Gleb Tsipursky (The Voice of Reason Award)
2. Sarah Cunningham (The Inclusive Culture Award)
3. Kaleem Clarkson (The Short Storyteller Award)
4. Chase Warrington (The Podcaster of The Year Award)
5. Tara Vasdani (The Remote Rights Award)
6. Chris Herd (The Instigator Award)
7. Laurel Farrer (The Voice of The Future Award)
8. David Burkus (Remote Team Culture Award)
Let's get stuck into the list.
1. Dr Gleb Tsipursky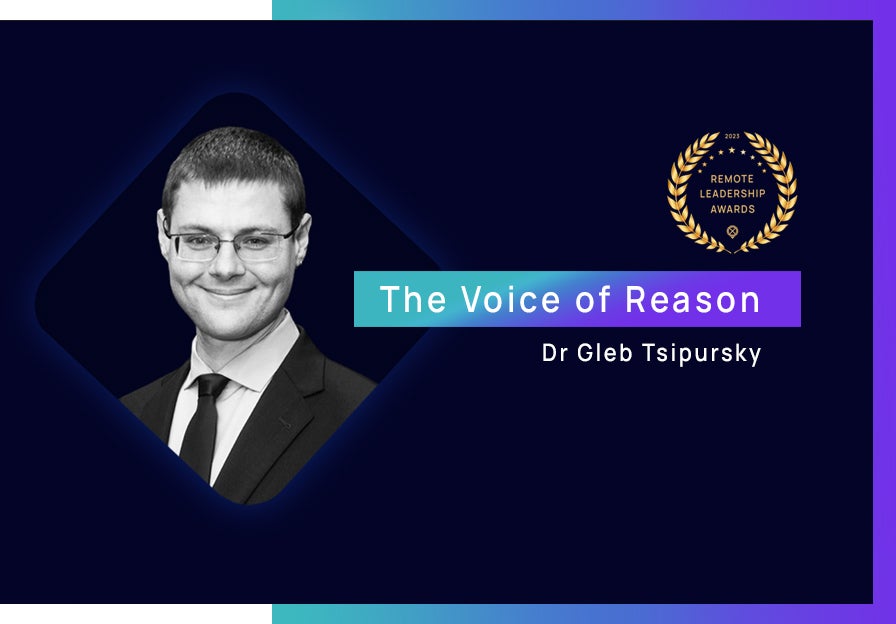 "Remote work is ushering in a new era. One where organizations are no longer defined by the walls they inhabit, but by the values they embody, the vision they share, and the global impact they strive to create." - Dr Gleb Tsipursky
Dr Tsipursky is a well-known cognitive neuroscientist and behavioral economist who works to expose cognitive biases in the workplace, and the psychology of decision making in business. He spent 15 years in academia and 7 teaching at Ohio State University.
The New York Times dubbed him 'the office whisperer' and he's a hybrid expert. We're big fans of Dr Tsipursky and have spoken about his ideas in many of our Out of Office episodes.
The Voice of Reason Award 2023
If you enjoy evidence-based arguments, factual data and a truth-first approach to business – Dr Tsipursky's research has great value.
Most importantly, his research stands-out when sensationalist headlines are doing the rounds and you're not sure what – or who - to believe.
Dr Tsipursky receives the 'Voice of Reason in Remote Work' title for 2023.
Website: Disaster Avoidance Experts
Newsletter: Wise Decision Maker Guide
LinkedIn: Dr Gleb Tsipursky
YouTube: @gleb1111
2. Sarah Cunningham
"Research shows that remote and hybrid work are important options for employees with child or elderly care responsibilities, neurodiverse employees, and employees with disabilities, all of whom have often historically been excluded from far too many roles." – Sarah Cunningham
Sarah Cunningham is someone who has always had interesting things to say about the future of work.
You'll know her as the Ex VP of Mastercard's Tech Hub who put her money where her mouth is and is the MD of a coalition of global leaders called the 'World Wellbeing Movement.'
As a behavioral scientist and organizational leader, she keeps her finger on the pulse of tech in the rapidly changing world of AI, AR, blockchain and other emerging technologies.
What caught our eye is her advocacy for workplace belonging, as a future of work strategist.
The Inclusive Culture Award 2023
Sarah is an important voice worth following if you're interested in inclusivity and figuring out how to make your people feel like they belong.
Her ideas around DE&I advocacy in hiring, and her belief in cognitive aptitude and work sample testing is inspiring and more – it's a way we can help phase out unconscious bias from the remote workplace.
Sarah receives the 'Inclusive Culture in Flexible Work' title for 2023.
Website: World Wellbeing Movement
LinkedIn: Sarah Cunningham
YouTube: World Happiness Summit
3. Kaleem Clarkson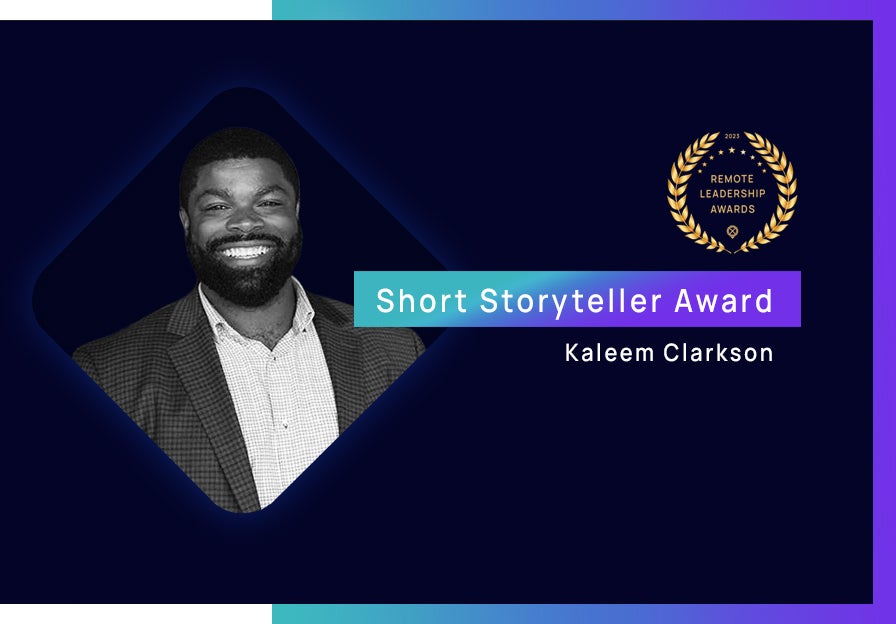 Kaleem Clarkson is a Top 150 Remote Influencer, and a LinkedIn Top Voice in Remote Work.
He is the Chief Operating Officer of Blend Me, a company that helps businesses come to grips with remote and hybrid models. He hosts 'Remotely One,' a podcast with Rick Haney dedicated to remote work.
The Short Storyteller Award 2023
Kaleem has released content on networking as a remote leader, on finding meaningful connection, and on a range of other useful remote tips on his shorts channel.
If you're interested in learning more about the remote employee experience, he has some engaging perspectives.
Mostly, we love how he's blazing a path using shorts to tell non-traditional remote stories. Kaleem, please keep them coming!
That's why we're giving him the 'Short Storyteller Award' for 2023.
Website: Blendmeinc.com
LinkedIn: Kaleemclarkson
YouTube: @KaleemClarkson
TikTok: Kaleemclarkson
4. Chase Warrington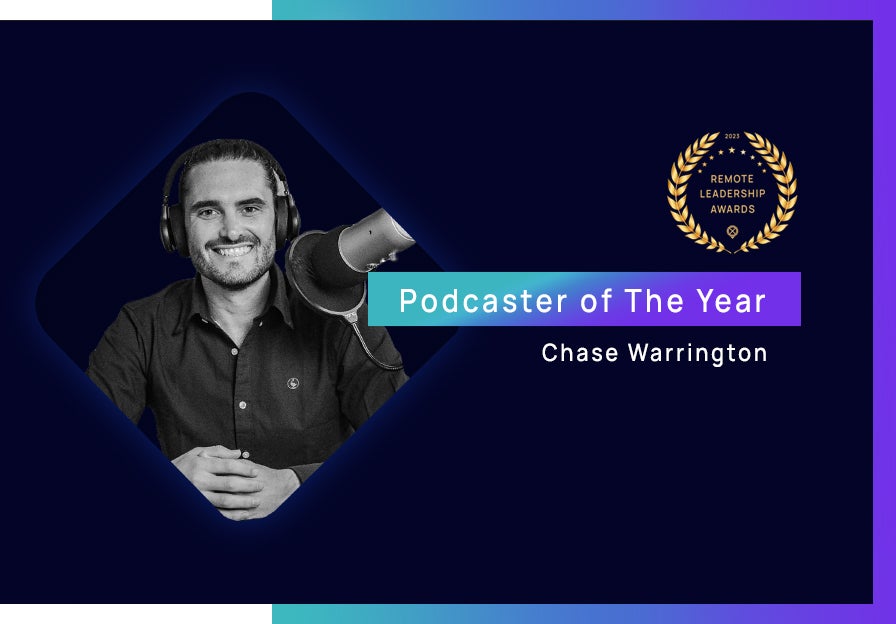 Chase Warrington is an advocate for asynchronous work and often shares practical advice on leading virtual teams from anywhere in the world.
As the Head of Remote at Doist and a LinkedIn Top Voice in Remote Work – he is best known for his work on 'About Abroad' a podcast dedicated to global mobility.
Honestly, we love the global mindset he speaks about in business.
Podcaster of The Year Award 2023
Follow Chase if you want to listen to someone with first-hand experience leading remote-first companies.
His insights will help you build more effective remote work practices, and they'll make your teams work better in an async context.
The best way of course - is to listen to About Abroad, a podcast making waves among digital nomads and remote workers everywhere.
Chase receives the 'Podcaster of The Year' title for 2023.
Website: Doist.com
LinkedIn: Chase Warrington
YouTube: @aboutabroad7706
5. Tara Vasdani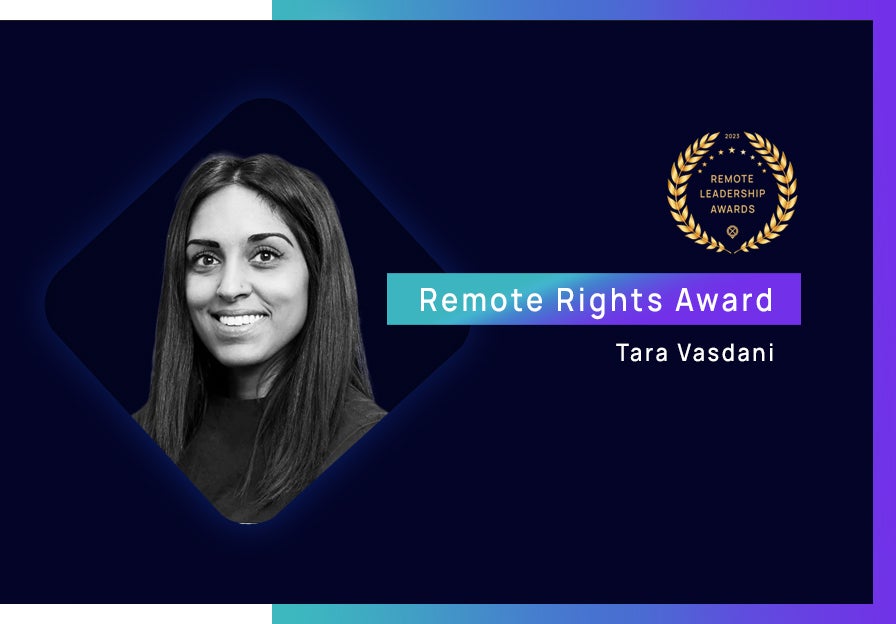 Tara Vasdani is a trailblazer guiding in a new age of remote work in the legal profession.
As the Principal Lawyer and Founder of Remote Law Canada, she offers remote work compliance, policies, employment agreements and other details that help companies go remote.
A LinkedIn Top Voice on Remote Work, Tara has interesting insights to share on employment law and on distributed teams. Our favorite? Her insights on distinguishing between independent contractors and employees.
The Remote Rights Award 2023
Tara was voted one of the most influential lawyers in Canada for 5+ years running.
She's worked tirelessly sharing her legal knowledge on successfully owning, operating and running remote companies – impacting positive change for everyone who wants to make remote work the norm.
Tara receives the 'Remote Rights Award' for 2023, for making the right to work remotely possible.
Website: Remote Law Canada
LinkedIn: Tara Vasdani
X: @Taravasdani
6. Chris Herd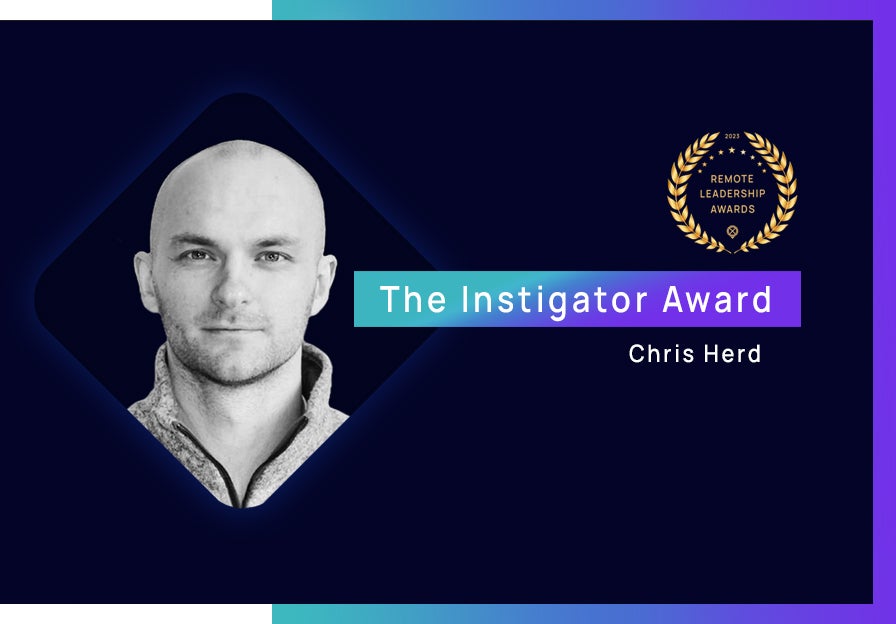 Chris Herd is the CEO of Firstbase, a platform that helps other businesses set up and support their distributed teams.
He's known for his contrarian stance on remote work, which - by nature - takes on the traditional structures and limitations of the workplace.
Along with bold LinkedIn socials and a library of disruptive articles, his fiery commentary hits the mark in a world full of bland jargon. Herd is a jalapeno among the peppers.
He's recently expanded into a podcast called 'Against the Herd' tied to his LinkedIn newsletter.
The Instigator Award 2023
Chris receives the 'Instigator Award in Remote Work' for 2023, for sharing his ideas in the face of ongoing resistance to change.
Website: Firstbase
Newsletter: Against The Herd
Podcast: Against The Herd
LinkedIn: Chris Herd
X: chris_herd
7. Laurel Farrer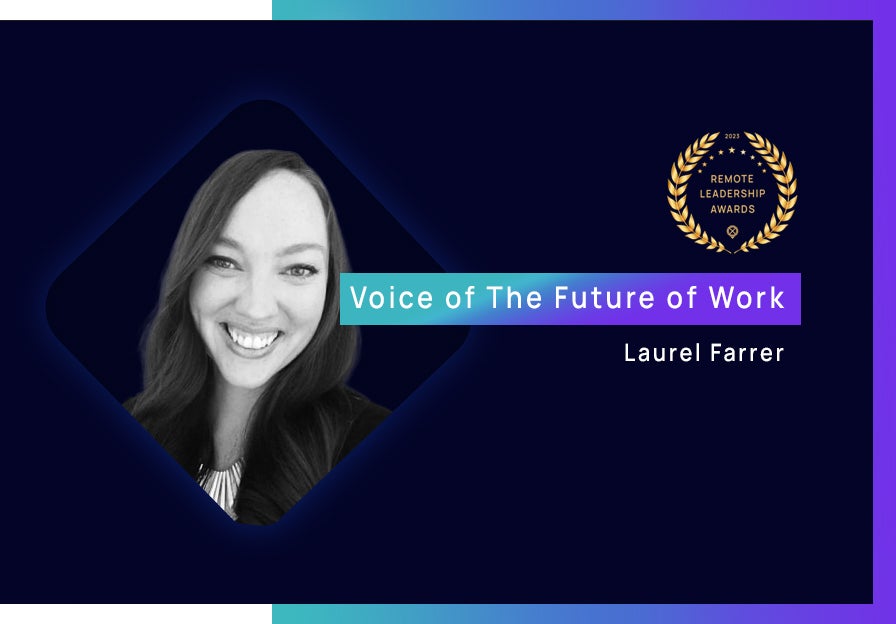 Laurel Farrer is a remote work expert and Chief of Staff in Strategy and Ops at Gitlab.
She's also the CEO and Founder of Distribute, a platform that offers remote work consulting and virtual organizational development services. For 15 years she has advocated for remote work and the potential it has to positively change the world.
Voted a Global Top 50 Changemaker in 2021, A Forbes Next 1000 in the same year, and one of 2022's Biggest Remote Work Influencers – her insights are reaching people far and wide.
Her ideas have featured in the New York Times and Forbes on topics like finding a remote job, HR and management and tool selection.
The Voice of The Future Award
As a regular Forbes contributor and someone deeply entrenched in the remote work revolution, Laurel has been on the frontlines for many years now.
As thought leader's go, few are as dedicated to idea dissemination and teaching as Laurel. Follow her to stay ahead of what's new in remote work.
Laurel receives the 'Voice of the Future of Work' title for 2023.
Website: Laurel Farrer
Instagram: laurel_farrer
LinkedIn: Laurel Farrer
Forbes: Laurel Farrer
8. David Burkus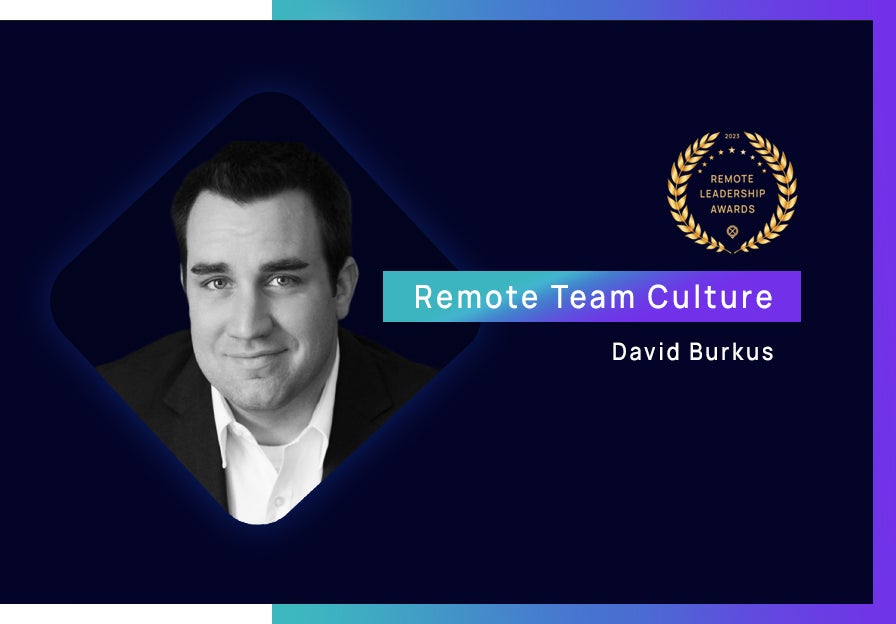 "To everyone still working from a cubicle. Freedom is coming." – David Burkus
David Burkus is a business thought leader and international speaker who wrote one of the pivotal remote work guides for teams back in 2021. And we're still impressed.
A 5X bestselling author and an organizational psychologist – he offers insights on training, belonging and teamwork that will only make every remote team better.
As remote and hybrid work continue to gain momentum (and attract criticism) books like "Leading from Anywhere," are a vital tool in the battle against bad remote management.
The Remote Team Culture Award
For his contributions to the field of remote management, from tracking productivity to avoiding burnout and learning to communicate quickly – David's ideas stick with you long after you're done.
Having an audiobook version of this classic makes it a remote leadership essential.
David receives 'The Remote Team Culture' title for 2023.
Website: Leading from Anywhere
Articles: David Burkus
YouTube: David Burkus
X: David Burkus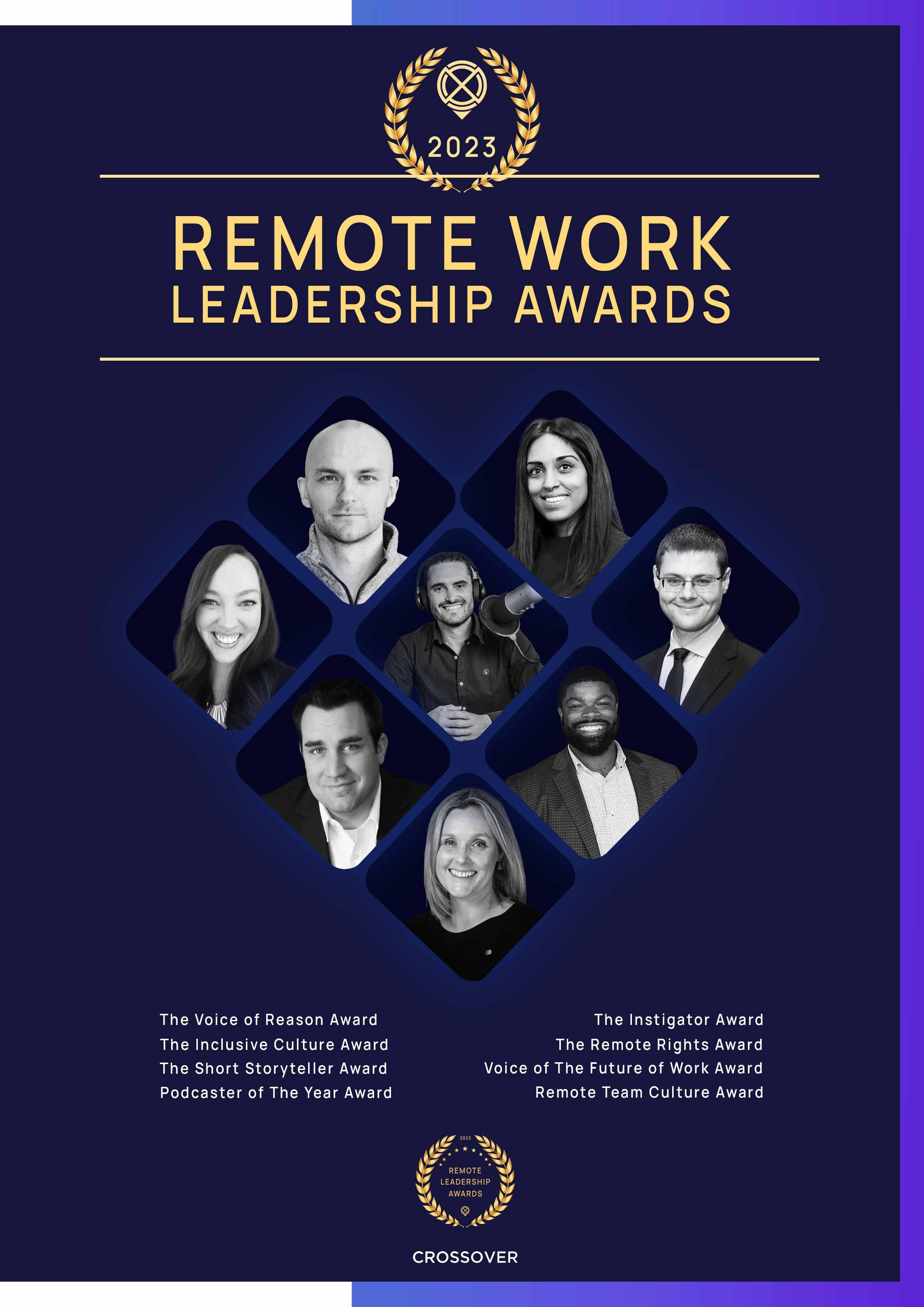 To our 1.5 million strong remote work community of global leaders, if you haven't seen the ideas from these pioneers – add them to your list.
Connect with them and engage with their commentary on LinkedIn to weigh in on the most important matters in the field today.
Within their vision for remote work, you'll find the strings to weave a tapestry of your own.
Congratulations to everyone who made the list this year.
And from our team to yours – thank you for everything you do to teach others the ideas, skills and revolutionary theories they need to live happier, healthier lives with remote work.